Ohio's Hospice at United Church Homes
Ohio's Hospice and United Church Homes have partnered to create a not-for-profit Medicare-certified hospice program serving residents facing life-limiting illnesses in United Church Homes senior living communities. Through shared values, mission and cultures, we work together to offer seamless continuity, superior care and superior services to residents and their families.
Ohio's Hospice at United Church Homes is an affiliate of Ohio's Hospice, a partnership of mission-driven, not-for-profit hospices committed to a shared vision of strengthening and preserving community-based hospice care. Our care team includes board-certified hospice and palliative care physicians, hospice-certified nurses, hospice-certified state tested nursing assistants (STNA), social workers, chaplains and volunteers.
Why Ohio's Hospice at United Church Homes?
Our teams comprise the state's most experienced hospice and senior living providers serving our communities for more than 40 years.
Our goal is to provide hospice services in your United Church Homes community. In addition, we can offer general hospice inpatient care through our Hospice Houses, hospice inpatient units and contracts with our local hospitals. Check with your team to learn about the best option for you.
You will have medical oversight with hospice and palliative care certified physicians and nurses.
We will help you stay out of the hospital and remain wherever you call home.
Ohio's Hospice services are available whenever you need us. You can call to speak with a nurse on our 24-hour support line or receive support from our extended-hours team.
Grief support services are available at no cost to our patients, their families and all members of our community.
Our Levels of Care
Hospice care is compassionate care for people facing a life-limiting illness or injury.
Hospice care involves a team-oriented approach to expert medical care, pain management, and emotional and spiritual support tailored to your needs.
Our four levels of hospice care include:
Routine Care: Patients receive hospice services in the setting they call home.
Crisis Care: Patients receive care on a short-term continuous basis in order to monitor and manage uncontrolled symptoms.
General Inpatient Care: Patients receive care on a short-term basis in an inpatient facility to help relieve uncontrolled symptoms.
Respite Care: Patients receive care in a facility on a short-term basis, up to five days, to provide relief for the caregiver.
Specialized Programs
We developed additional disease-specific Focused Care™ programs customizing your care, and centered around you.
Focused Care services include symptom management for patients with:
Cancer: Specialized oncology nurses available to work with you and your physician.
Heart Disease: Specialized cardiac nurse to advise your hospice care team and your physician.
Pulmonary: Respiratory therapists and support for oxygen needs.
In many areas, Ohio's Hospice affiliates offer an array of services that include hospital-based dedicated beds and Hospice House inpatient care. When patients require short-term, 24/7 symptom monitoring and management by a team with palliative and hospice expertise, these options for care are invaluable.
Our Physicians
Ohio's Hospice Loving Care partners with an energetic, patient-focused medical team which represents the most extensive experience in hospice and palliative care in Ohio. Our innovative physicians serve as collaborators and consultants to hundreds of other physicians serving patients in our area. In addition, they provide medical expertise that personally addresses the needs of hospice patients.
Physician Bios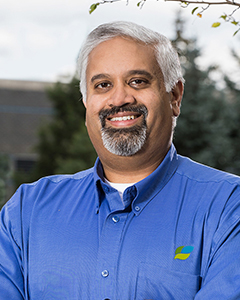 Chirag Rajni Patel, MD
Dr. Patel serves as chief medical officer for Ohio's Hospice and Pure Healthcare. Dr. Patel joined the staff of Ohio's Hospice of Dayton in 2009. Dr. Patel formerly served as a staff hospitalist and specialist in hospice and palliative care at Dayton Veteran's Affairs Hospital. He earned his medical degree from the American University of The Caribbean and completed residency and chief residency at Wright State University School of Medicine. From 2005-2006 Dr. Patel served as the chief of the Medical-Surgical Clinic at Miami Valley Hospital. He is certified by the American Board of Internal Medicine and is board certified by the American Association of Hospice and Palliative Medicine.
Rana Patel, MD
Dr. Patel served as a staff physician in hospice and palliative care at Dayton Veteran's Affairs Hospital before joining Ohio's Hospice of Dayton. She earned her medical degree at Ross University and completed a residency at the Wright State University Boonshoft School of Medicine. She completed a fellowship with the Wright State University Boonshoft School of Medicine in hospice and palliative care in 2009.