Female Vet Enjoys Honor Flight
by Sharon Metcalf, MSW, LSW, Manager of Social Workers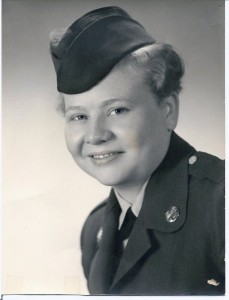 I was blessed to act as Guardian for one of our Hospice of Dayton patients, Ella Simpkins, on a Dayton Honor Flight. The Honor Flight's mission is to take Veterans of WWII, the Korean and Vietnam wars to Washington, D.C. ,for a chance to see our National Memorials. This was a long one day trip beginning at 3:30 a.m. and ending at midnight with an emotional "welcome home" at the Dayton Airport.
Ella was one of five women among the 95 Veterans on this trip. Ella was a WAC during the Berlin Crisis. She entered the military at 17 (with her parents' permission) and served with special clearance in communications, traveling to Germany just prior to the Vietnam War. Ella's duties contributed to the exemplary heritage of women in military service.
The Dayton Honor Flight's entourage of three tour buses had a police escort throughout our time in Washington. Ella was especially impressed by the Lincoln Memorial, Vietnam Wall and Korean Memorial. Ella and our Dayton Honor Flight Veterans had a front row seat to the Changing of the Guard at Arlington. A group photo was taken at the Air Force Memorial. Ella and I talked about Forrest Gump and other movies she liked, as Ella sat in her wheelchair overlooking the Lincoln Memorial's reflecting pool.
From our arrival in Washington to our homecoming reception in Dayton, I was brought to tears by the outpouring of appreciation by civilians and by the level of professional respect demonstrated by our military personnel. I was told that the large groups of service men and women who welcomed us home as we stepped off the plane came to Dayton Airport two hours early to ensure they could meet us at the gate. I was unprepared for the Color Guard, countless military personnel and hundreds of civilians waiting in the Dayton Airport Terminal to say "Thank you" to our Veterans.