Of B-17s and Blue Skies and Bucket Lists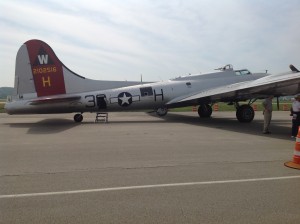 "She was a Stradivarius of an airplane…"                   Colonel Robert Morgan, pilot of the Memphis Belle
The "Stradivarius" referred to is the Boeing B-17. The Colonel is not the only admirer of the B-17. Valentine Baab became a fan as a young airman stationed in Great Britain where the iconic World War II bombers had been based. At the age of 20, he was proud to serve as a firefighter at the same base that actor Jimmy Stewart had, and from which General Curtis LeMay had commanded the heroic B-17 unit critical to World War II success. Valentine became a life-long World War II buff.  He recently realized a life-long dream of flying in one of the heralded Flying Fortresses.
Valentine and his grandson, Craig, took to the skies as passengers on one of the few remaining B17s. Only thirteen of the planes remain airworthy, so the flight has historical significance as one of rare opportunity. The two built an incredible memory and shared it with nearly a dozen family members along to document the flight. The outing was a special one, but just one of many Valentine and his grandson have shared.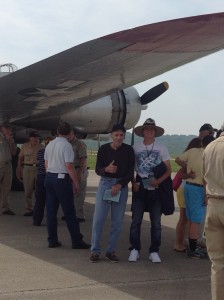 Valentine and Craig started a weekly ritual years ago of Wednesday breakfast together at Bob Evan's Restaurant. The two are so close that when the opportunity to fly in a B17 was presented, Valentine knew immediately he wanted Craig along for the ride. Valentine's love of adventure and travel has taken him to Germany, Russia and Isreal along with Great Britain. It was while on one of these trips he received the news by email that he had been diagnosed with cancer. The worst part, he says, was having to break the news to his wife, Elizabeth. While that was difficult, Valentine knew she would show strength, as he has always "surrounded himself with strong women and positive people by choice."
Now in hospice care, Valentine is making every moment count with his family that includes four grandchildren and two great-grandchildren – one of them a grandson who recently soared the skies with the grandfather he adores in one more great adventure, making one more wonderful memory.