Wright State School of Nursing Celebrates Ohio's Hospice of Dayton Achievement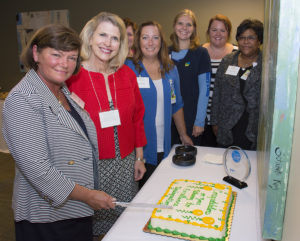 "It is always an honor to celebrate hard working nurses," Rosalie Mains, Dean of the Wright State University School of Nursing at a reception recognizing the achievement of Ohio's Hospice of Dayton, recently named the first hospice in the nation to achieve Pathway to Excellence designation from the American Nurses Credentialing Center. "We are very blessed to have this hospice in our community, and we are grateful to share in a commitment to the Power of Nursing."
Ohio's Hospice of Dayton earned Pathway to Excellence designation for promoting excellence in nursing and providing a positive environment of shared decision making in which nurses can advance and grow professionally. Clinical staff members committed to achieving multiple goals to earn the accolade, including increasing the percentage of eligible nursing staff qualifying for hospice and palliative certification from 12% to 93% over a six year period.
Dean Mains praised the partnership enjoyed by the two Dayton area organizations, and recognized the value each brings to collaborative ventures.
She also took the opportunity to honor and recognize WSU alum and Ohio's Hospice of Dayton Chief Nursing Officer Mary Murphy for her vision, service and leadership with an award from the Wright State University College of Nursing.